RAIN, HAIL OR SHINE: THERE'S NO STOPPING BABBINGTON
By: PBRA Wednesday, August 29, 2018 @ 10:18 AM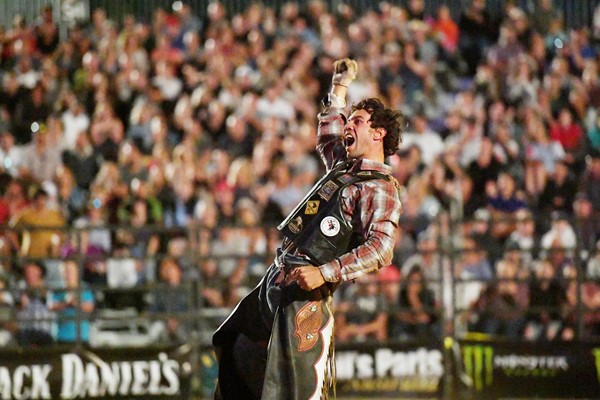 Highlights
Babbington's win moves him to No. 2 in the PBR Australia National Standings.
Riders head to PBR Monster Energy, Mackay Invitational presented by Dalrymple Bay Coal Terminal on Saturday, 8th September, 2018. TICKETS ON SALE NOW.
The annual Cunnamulla Fella Festival PBR had it all on the weekend – Clear skies, rain and then hail, but it certainly did not dampen the performances put up by the PBR riders who weathered the storm.
Like water off a duck's back they all just got about their business – riding bulls.  In round 1 world ranked number 34, Lachlan Richardson set the pace with an 83 point ride on board Kasper's Sweet Pro's Rhinoplasty. Next was Nebo's Mitch Paton who marked 81.5 points on Timm's Sargent Fox, whilst former Australian champ Fraser Babbington settled into third place with his ride on another bull from Timms – Big Buck Hunter.
Onto round two and Babbington made it look easy on Spartan (Bunn) to be rewarded with 83.5 points. Cloncurry's Jason Mara raked up 82 points on Loose Cannon (Bunn) in front of Tully's Michael Smith with 80.5 on Chameleon.
Into the third and final round – Riders were not only vying for the event honours but also the $1000 Mayors Challenge bonus, awarded to the highest scoring rider in this round.  2016 PBRA champion Cody Heffernan representing Quilpie Shire took home the bonus with a score of 81 points aboard Rock Solid (Bunn).  The only two other riders to make a qualified rides both on 80.5 points  were Lachlan Richardson on Snap Chat (Timm) and Fraser Babbington on Acid Rain (Bunn).
After 3 tough rounds the Cunnamulla Fella PBR champion was Fraser Babbington (239 points) ahead of Lachlan Richardson (237.50), Mitch Paton (149.5 points) and Cody Heffernan (147 points).
The win moved Fraser up the Australian standings to number two – just 404 points behind Clermont's Aaron Kleier.
This weekend the PBRA's leading bull riders will head out west for the B150 Blackall PBR event before heading to Mackay the following weekend, 8 September.  From here, every event will be critical for riders looking to earn a spot at the PBR Grand Finals, Townsville November 23 and 24. The battle is well and truly on – who will qualify for the Grand Finals? Who will be the 2018 PBRA champion? Only time will tell. 
To keep up to date with all the latest results, standings and to purchase tickets for upcoming events visit www.pbraustralia.com.au.