PBR Australia's Elite Monster Energy Tour Returns to Rockhampton in 2021 with Six Fan-Attended Events
By: Kacie Albert Friday, March 19, 2021 @ 9:34 AM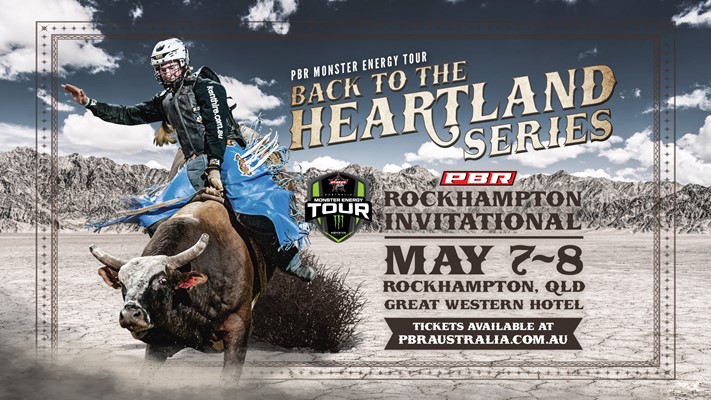 ROCKHAMPTON, Queensland –  Rockhampton, Queensland, one of the most travelled to cities in PBR (Professional Bull Riders) Australia history, will host six elite Monster Energy Tour stops, in 2021, bucking into the Great Western Hotel with a sextet of events, all part of the nation's premier series' Back to the Heartland Series.
PBR Australia's 2021 season will launch in the City of Three S's, with two events at the Great Western Hotel May 7-8. The third tour stop of the new season will also be held in Rockhampton, slated for June 12.
Later in the year, subsequent PBR Rockhampton Invitationals will be held July 31 and September 4. Held during the current calendar year, the final Monster Energy Tour stop of 2021 in Rockhampton, planned for December 31, will mark the first event of PBR Australia's 2022 season.
The Back to the Heartland Series will be held throughout 2021, travelling to iconic western sports venues and locales throughout Australia that have impacted and help shape the western lifestyle in the nation.
The Monster Energy Tour regularly features Australia's best bull riders squaring off against the rankest bucking bulls from across the nation. Fans will witness exhilarating 8-second rides and wrecks throughout the action-packed event as the PBR's courageous bull-riding athletes face off against their 800-kilogram opponents bred to buck.
The 2021 PBR Rockhampton Invitationals will abide by a series of health standards and protocols, guided by Rockhampton Regional Council  and the Queensland state government industry framework for safe events during COVID-19 (coronavirus), including:
PBR will sell limited arena capacity, increase distancing amongst patrons and minimize fan crossover when entering and exiting.
PBR will facilitate and adhere to all contact tracing requirements.
Social distancing throughout the event, with all riders, stock contractors and staff maintaining 1.5 meter distance, except when crucial to the safe performance of bull riding.
Signage at venue entry instructing attendees not to enter the venue if they are unwell, have COVID-19 symptoms, have been overseas in the last 14 days, or have been in close contact with a confirmed case.
Social-distancing floor clings and barriers placed in high-traffic areas to prevent gatherings
Increased sanitization of high-contact areas throughout the event.
Emphasis on digital tickets, and options for cashless concessions and merchandise sales.
As one of the longest tenured events in PBR Australia history, the league debuted in Rockhampton in 2006 holding six tour stops in the Queensland city that season. Heath Shrimp (Thane, Queensland) was victorious at the inaugural Rockhampton Invitational, with the subsequent 2006 events won by Wayne Brokenbrough (Gympie, Queensland), Ryan Storey (Mackay, Queensland), Steven Clark (Mineral Wells, Texas), Ben Jones (Goulburn, New South Wales) and Denny Farley (Kempsey, New South Wales).
In 2020, the Monster Energy Tour held three events in Rockhampton.
After Lawson Nobbs (Moura, Queensland) won the first of the trio of tour stops, now three-time PBR Australia Champion Aaron Kleier (Clermont, Queensland) and Sam Woodall (Heywood, Victoria) emerged the victors at the double-header, fan-attended events held in mid-October. For Kleier, the win was the second of his career in the city, also topping the field for the Rockhampton Invitational in 2017, his rookie season.
Other past Rockhampton event winners include: Ben Keliher (2007 – Denton, Texas), Budd Williamson (2007 – Ayr, Queensland), Jones (2007), Ben Seeds (2008 – Dingo, Queensland), Cody Heffernan (2008 – Singleton, New South Wales), Kevin "Jock" Connolly (2009 – Charters Towers, Queensland), David Kennedy (2009 – Kyogle, New South Wales), Roy Dunn (2015 – Proserpine, Queensland), Fraser Babbington (2015 – Gisbourne, New Zealnd), Lachlan Richardson (2016 – Gresford, New South Wales), Bailey Woodard (2017 – Dingo, Queensland), Jason Mara (2018 – Cloncurry, Queensland) and Storey (2018).  
Tickets for the first five iterations of the PBR Rockhampton Invitational are on sale now, starting at $20 for children and $40 for adults, standard fees may apply, and can be purchased at www.tix.pbraustralia.com.au.
The first five events from Great Western Hotel are scheduled for May 7, May 8, June 12, July 31 and Sept. 4. Stay tuned to PBRAustralia.com.au for the latest information on the Rockhampton Invitational slated for Dec. 31, including when tickets will be available for purchase.  
The bull riding action for each iteration of the Rockhampton Invitational begins at 7:00 p.m. AEST. At each event, all riders will attempt one bull each in Round 1. The Top 8 will then advance to the championship round for one more out and a chance at the event title. In addition to competing for points towards the Australian national standings, riders will also vie for crucial points towards the World Finals.
All future PBR Australia events are subject to change, planned in accordance with directives issued by relevant government and health authorities given the evolving regulations during the COVID-19 (coronavirus) pandemic.