Aaron Kleier Earns Unprecedented Fourth Consecutive PBR Australia Championship
By: Kacie Albert Sunday, November 28, 2021 @ 6:59 PM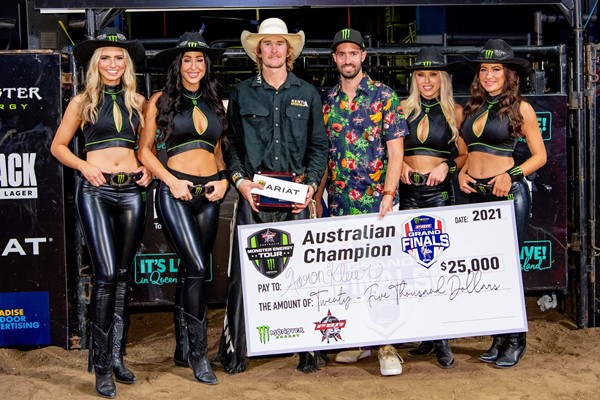 TOWNSVILLE, Qld. – History was made inside the Townsville Entertainment & Convention Centre this past weekend. After the dust settled in Townsville, Queensland, for the 2021 PBR (Professional Bull Riders) Australia Monster Energy Tour Grand Finals, Aaron Kleier (Clermont, Queensland) etched his name in the league record books, crowned the 2021 PBR Australia Championship, his unprecedented fourth consecutive national title.
Only one other bull rider in history has won a national title four times in any of PBR's international divisions. Kleier, the first to achieve the feat in successive years, is now tied David Kennedy (Kyogle, New South Wales) for most Australian national titles won by one rider in league history. Kennedy topped the national standings in 2009-2010, 2012 and 2014.
Kleier began the year-end event with a 195.83-point lead over No. 2 contender Macaulie Leather (Calliope, Queensland).
As action got underway for the 2021 Australian Grand Finals, Kleier furthered his stronghold on the No. 1 position in the nation, and inched closer to history, by sweeping the opening rounds of competition.
Quick to strike, Kleier tied for the Round 1 win at the Grand Finals compliments of an 85.5-point effort aboard Suga Boom Boom (BK Bucking Bullls).
Kleier then faced a rubber match with King Kong (Fred Kleier) in Round 2.
The bovine athlete, who is presently the largest bull bucking in PBR competition, weighing in at 990 kgs, bucked off the stoic Queensland native in their first meeting, sending him to the ground in a heartbreaking 7.97 seconds in 2018 in Rockhampton, but Kleier exacted revenge in their next showdown, covering the commanding animal athlete for 88 points en route to the event win this July in Rockhampton.
Continuing his success, Kleier matched King Kong jump-for-jump en route to the 8-second whistle, marked a Round 2-winning 85.25 points.
Kleier's successes continued to mount during the final day of competition for the 2021 season, delivering what tied for the third-best score of Round 3 of the Grand Finals when he covered Forever Amen (Brandenburg Bucking Bulls) for 84.75 points.
While the 23-year-old was unable to make the 8 aboard his final two animal athlete opponents, bested by Roam Aviation High Risk (Dunne Bulls) in 2.25 seconds in Round 4 and Razor Sharp (Peter Wallace) in 3.06 seconds in the championship round, Kleier's third-place effort at the season-culminating event, which netted him 106.5 national points, clinched him the 2021 PBR Australia Championship
Throughout the season, Kleier went a PBR Australia-best 23-for-35, covering 65.71% of the nation's top bovine athletes. He concluded the year 248.01 points ahead of No. 2 Brady Fielder (Clermont, Queensland).
Including the $25,000 bonus for being crowed the 2021 PBR Australia Champion, Kleier earned a check for $31,533.33 at the two-day event in Townsville.
In the bull pen, Cattle King Boogers Beach (Dittmann Bucking Bulls) capped his dominant season with both the 2021 YETI Bull and Rookie Bull of the Year honors.
After winning a league-leading nine Bull of the Event honors throughout the regular season, Boogers Beach clinched both year-end honors compliments of a monstrous 45.25-point out in the championship round of the 2021 PBR Australia Grand Finals. The fierce bovine athlete earned the score after tossing seven-time PBR World Finals qualifier Lachlan Richardson (Gresford, New South Wales) in 5.02 seconds.
Cattle King Boogers Beach left the Townsville Entertainment & Convention Centre having collected $9,080 in bonus money for both year-end titles.
Dittmann Bucking Bulls was also anointed the 2021 PBR Australia Stock Contractor of the Year, earning a $5,000 bonus. In addition to Cattle King Boogers Beach, other standout bovines from the outfit's roster that bucked at the Grand Finals included Roid Rage (Dittmann Bucking Bulls), Reloaded (Dittmann Bucking Bulls) and POA Fully Locked & Loaded (Dittmann Bucking Bulls).
Courtesy of a near-perfect 3-for-5 showing Sam Woodall (Heywood, Victoria) won the prestigious 2021 PBR Australia Grand Finals event title, along with $11,800.
Woodall was electric on Championship Saturday, rebounding from a dismal opening day of competition when he was bested by Breaking Bad (MJ/Keliher Bucking Bulls) in 4.63 seconds in Round 1, and Blinky Bill (BK Bucking Bulls) in 4.96 seconds in Round 2,
In a must-ride situation, Woodall snapped his backwards skid at the Grand Finals when he covered Super Natural (Colin Fry) for 86.25 points, the second-best score of Round 3.
He continued to climb the leaderboard in his very next out, winning Round 4 when he bested Drag Iron (Dunne Bulls) for 85.75 points.
Woodall then cemented his event win by reaching a crucial career milestone. In near picture-perfect form, the 23-year-old rode POA Fully Locked & Loaded for 90 points, the first 90-point score of his career.Adding to the significance of the out, it also marked the swan song for POA Fully Locked & Loaded who retired following the trip.
Throughout his career, the Dittmann Bucking Bulls' bovine athlete was ridden just 9 times in 54 outs. POA Fully Locked & Loaded posted the top bull score of his career in 2018 when he was marked 46 points in Julia Creek, Queensland, for his 3.85-second buckoff of Jason Mara (Cloncurry, Queensland). The animal athlete's final trip was awarded a 44-point score, his second-best effort of the year.
Woodall concluded the year No. 7 in the national standings, after beginning the event No. 9 in Australia, his second consecutive year-end Top-10 ranking.
Returning to the bull pen, Pretty Boy (Peter Wallace) was the Bull of the 2021 PBR Australia Grand Finals.
The bull was unmatched in both of his trips in Townsville, marked 45 points or more in both outs.
Pretty Boy first bucked in Round 2, marked 45 points when he upset Richardson in 4.15 seconds. Improving as the event progressed, Pretty Boy was then scored a higher 45.25 points in the championship round for his 4.62 seconds of work against Jake Curr (Peter Wallace).
Wallace Bucking Bulls also won the Bull Team competition held in tandem with the 2021 PBR Australia Monster Energy Tour Grand Finals. In addition to Pretty Boy, the company's other top animal athletes were Razor Sharp and Black Tuxedo (Peter Wallace).
Leather was crowned the 2021 PBR Australia Rookie of the Year. While Leather had a dismal showing at his career-first Grand Finals, going 0-for-4, he was electric throughout 2021. He went 12-for-35 on home soil in 2021, winning two events and registering an additional eight Top-10 efforts.
The 20-year-old young gun concluded his first year competing amongst the PBR Australia ranks, No. 4 in the national standings, 302.33 points behind No. 1 Kleier.
The 2021 PBR Australia season will get underway Friday, December 31 in Rockhampton, Queensland. Action for the PBR Rockhampton Invitational at the Great Western Hotel will begin at 7:30 p.m. AEST.
For more information, stay tuned to PBRAustralia.com.au and follow the tour on Facebook (PBR Australia), Twitter (@PBRAustralia), and Instagram (@PBRAustralia) for the latest results.
PBR Australia Monster Energy Tour – PBR Grand Finals
Townsville Entertainment & Convention Centre – Townville, Queensland
Event Leaders (Round 1-Round 2-Round 3-Round 4-Round 5-Event Aggregate-Event Points)
1. Sam Woodall, 0-0-86.25-85.75-90-262.00-155 Points.
2. Brady Fielder, 85-0-0-85.25-89.75-260.00-118 Points.
3. Aaron Kleier, 85.5-85.25-84.75-0-0-255.50-106.5 Points.
4. Lachlan Richardson, 85.5-0-87-0-0-172.50-87.5 Points.
5. Jake Curr, 81.5-83.75-0-0-0-165.25-61 Points.
6. Lawson Nobbs, 0-0-84.75-80-0-164.75-45 Points.
7. Kurt Shephard, 85.25-0-0-0-0-85.25-30 Points.
8. Lachlan Slade, 0-0-0-84-0-84.00-20 Points.
9. Mitchel Paton, 0-0-0-82.75-0-82.75-13 Points.
10. Joshua Jones, 80.75-0-0-0-0-80.75-6 Points.
11. Taran Chirgwin, 0-80.5-0-0-0-80.50-10 Points.
Beau Willis, 0-0-0-0-0-0.00
Macaulie Leather, 0-0-0-0-0-0.00
Qynn Andersen, 0-0-0-0-0-0.00
Bailey Woodard, 0-0-0-0-0-0.00
Troy Wilkinson, 0-0-0-0-0-0.00
Lane Mellers, 0-0-0-0-0-0.00
Caiden Sandilands, 0-0-0-0-0-0.00
Dan Ruhland, 0-0-0-0-0-0.00
Kelsey Pavlou, 0-0-0-0-0-0.00
Jack Keats, 0-0-0-0-0-0.00
Wyatt Milgate, 0-0-0-0-0-0.00
Lane Howlett, 0-0-0-0-0-0.00
Bryn Francis, 0-0-0-0-0-0.00
2021 PBR Australia National Standings
(Place, Rider, Events, Wins, Top 5's, Points, Total Winnings)
1. Aaron Kleier, 14, 4, 11, 679.83, $56,131.77
2. Brady Fielder, 14, 0, 8, 431.82, $17,265.59
3. Kurt Shephard, 12, 2, 7, 389.00, $17,464.52
4. Macaulie Leather, 15, 2, 6, 377.50, $12,783.32
5. Lawson Nobbs, 14, 2, 4, 351.33, $14,438.00
6. Lachlan Richardson, 15, 1, 6, 315.00, $13,394.28
7. Sam Woodall, 11, 1, 4, 276.00, $15,857.88
8. Beau Willis, 10, 1, 1, 154.00, $6,758.80
9. Bailey Woodard, 8, 1, 3, 149.00, $6,507.68
10. Lachlan Slade, 7, 1, 3, 136.50, $10,082.28
11. Joshua Jones, 9, 0, 2, 113.00, $2,917.24
12. Troy Wilkinson, 10, 0, 2, 112.50, $3,891.20
13. Kelsey Pavlou, 13, 0, 2, 106.50, $2,795.92
14. Qynn Andersen, 7, 0, 3, 83.16, $2,480.96
15. Lane Mellers, 11, 0, 3, 77.50, $4,208.40
16. Caiden Sandilands, 15, 0, 4, 72.99, $1,476.79
17. Mitchel Paton, 10, 0, 1, 71.00, $2,092.00
18. Jake Curr, 6, 0, 1, 61.00, $2,733.33
19. Dan Ruhland, 13, 0, 2, 58.50, $1,358.88
20. Cody Heffernan, 6, 0, 1, 52.50, $2,175.60
21. Taran Chirgwin, 13, 0, 1, 47.00, $1,559.81
22. Daniel Rogan, 3, 0, 1, 24.83, $295.27
23. Joseph Down, 8, 0, 0, 19.50, $754.80
24. Cody Fraser, 3, 0, 1, 10.50, $295.68
25. Trefor Sproule, 5, 0, 0, 10.00, $0.00
26. Wyatt Milgate, 10, 0, 0, 8.00, $0.00
27. Lane Howlett, 6, 0, 0, 6.00, $0.00
28. Josh Cavanagh, 2, 0, 0, 3.50, $0.00
29. Jackson Gray, 1, 0, 0, 0.00, $0.00
29. Ty Thomson, 5, 0, 0, 0.00, $0.00
29. Zane Hall, 4, 0, 0, 0.00, $0.00
29. Michael Smith, 4, 0, 0, 0.00, $0.00
29. Eli Bee, 3, 0, 0, 0.00, $0.00
29. Jack Keats, 5, 0, 0, 0.00, $0.00
29. Thomas Hudson, 4, 0, 0, 0.00, $0.00
29. Bryn Francis, 5, 0, 0, 0.00, $0.00
29. Isaac Leclair, 3, 0, 0, 0.00, $0.00
29. Clay Hall, 3, 0, 0, 0.00, $0.00
29. Sam Spencer, 3, 0, 0, 0.00, $0.00
29. Ben Graving, 2, 0, 0, 0.00, $0.00
29. Luke Parkinson, 2, 0, 0, 0.00, $0.00
29. Jack Cameron, 2, 0, 0, 0.00, $0.00
29. Oscar Leake, 1, 0, 0, 0.00, $0.00
29. Brumby Brandenburg, 1, 0, 0, 0.00, $0.00
29. Sam Payne, 3, 0, 0, 0.00, $0.00
29. Chris Wilson, 3, 0, 0, 0.00, $0.00
29. Jono Couling, 2, 0, 0, 0.00, $0.00
29. Derryn Bonisch, 1, 0, 0, 0.00, $0.00
29. JN Bennett, 1, 0, 0, 0.00, $0.00