Flawless Jake Curr wins PBR Australia Touring Pro Division Event in Mount Isa, Queensland
By: Kacie Albert Saturday, June 18, 2022 @ 12:17 PM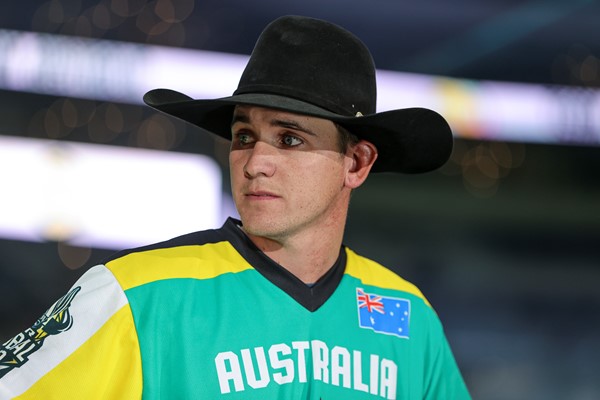 MOUNT ISA, Qld. – In front of a raucous Mount Isa, Queensland, hometown favorite Jake Curr (Mount Isa, Queensland) delivered a flawless 2-for-2 performance to win his first event of the 2022 season, victorious at the PBR (Professional Bull Riders) Australia Touring Pro Division's Mount Isa Show.
In Round 1, the 22-year-old first put points on the board when he covered Pandamonium (Throsby Russell & Curr) for 80.5 points.
Curr, who was then sixth in the event, next readied to go head-to-head with Super Natural (Colin Fry). Poised, the young gun matched the bull jump-for-jump, reaching the requisite 8 to earn an event-best 89-point score to clinch the victory.
For his efforts, Curr earned 25 national points, rising to No. 14 in the heated race to be crowned the 2022 PBR Australia Champion. Curr trails No. 1 Lachlan Richardson (Gresford, New South Wales) by 266.67 points.
While Richardson maintained his No. 1 rank, he was shutout during Saturday afternoon's event. After being bucked off by Cattle King Screaming Deamon (Dittmann Bucking Bulls) in 4.07 seconds in Round 1, he was upended by Hair Trigger (Dittmann Bucking Bulls) in a swifter 1.85 seconds in Round 2.
Richardson now leads the nation by a mere 10.5 national points.
Qynn Andersen (Koumala, Queensland) delivered a runner-up effort, collecting 17 national points, and climbing to No. 2 in the Australian standings.
Andersen was unrivaled in Round 1, delivering the top score when he bested Tropical Rash (Dunne Bulls) for 88 points. The Queensland native, however, was unable to stay atop the leaderboard after being bucked off by Gangster's Retreat (Colin Fry) in Round 2.
Seeking his first national title in 2022, No. 2 Andersen is within a mere 10.5 points of the top position.
Will Purcell (Merrijig, Victoria) and Bradley Wheeler (Grafton, New South Wales) tied for third, each taking home 10 national points.
Purcell and Wheeler both delivered 85.5-point rides in the opening round, covering G Shock (Throsby & Russell Bucking Bulls) and Mr. Bright Side (Throsby & Russell Bucking Bulls) respectively.
In the fierce battle to be crowned the 2022 PBR Australia Champion, Purcell is now No. 10, while Wheeler is ranked No. 24.
Rounding out the Top 5 in fifth was Kurt Shephard (Mareeba, Queensland).
The veteran rider rode POA Lock n Load (Dittmann Bucking Bulls) for 84.5 points in Round 1 to earn 5 national points.
Home for a brief time before he returns to the United States to compete for the Texas Rattlers in the groundbreaking PBR Team Series, Brady Fielder (Clermont, Queensland) was eighth.
Going 1-for-2, Fielder rebounded from a 2.57-second buckoff dealt to him by End Game (Dunne Bulls) in Round 1, but covering Trigger Man (Dittmann Bucking Bulls) for 77.5 points in Round 2.
During the Mount Isa Show Saturday evening, PBR also celebrated standout bovine athlete Cattle King Ray Ban (Dittmann Bucking Bulls) who officially retired. Making his last trip at the Touring Pro Division event, Cattle King Ray Ban was scored 42.5 points in Round 2 when he dispatched Beau Willis (Bowen, Queensland) in 6.5 seconds.
The 11-year-old animal athlete delivered 35 outs in his career, ridden just 12 times. He posted his career-best score during the 2017 PBR Australia Grand Finals when he was marked 45.5 points for his 4.94 seconds of work against eventual Australian Champion Troy Wilkinson (Upper Horton, New South Wales). 
Elsewhere in the pen, the animal athletes lit up the scoreboard with two bulls marked in excess of 46 points. While Cattle King Boogers Beach (Dittmann Bucking Bulls) turned in a 46-point score for his 5.5-second buckoff of Jack Keats (Cloncurry, Queensland), Roid Rage (Dittmann Bucking Bulls) was in a class of his own. Anointed the Bull of the Event, Roid Rage was scored a monstrous 47 points in Round 2 when he tossed Braith Nock (Bendemeer, New South Wales) in 3 seconds.
The 2022 PBR Australia season will continue July 16 in Cairns, Queensland, for the Monster Energy Tour's PBR Cairns Invitational. Action at the Cairns Convention Centre will get underway at 7:00 p.m. AEDT.
Stay tuned in to PBRAustralia.com.au and follow the tour on Facebook (PBR Australia), Twitter (@PBRAustralia), and Instagram (@PBRAustralia) for the latest results, news, stats and more.
PBR Australia Touring Pro Division
PBR Mount Isa Show
Buchanan Park Events Complex– Mount Isa, Queensland
Event Leaders (Round 1-Round 2-Event Aggregate-Event Points)
1. Jake Curr, 80.5-89-169.50-25 Points.
2. Qynn Andersen, 88-0-88.00-17 Points.
3. Will Purcell, 85.5-0-85.50-10 Points.
(tie). Bradley Wheeler, 85.5-0-85.50-10 Points.
5. Kurt Shephard, 84.5-0-84.50-5 Points.
6. Jackson Gray, 83-0-83.00-3 Points.
7. Braith Nock, 80-0-80.00-1 Points.
8. Brady Fielder, 0-77.5-77.50-5 Points.
Lachlan Richardson, 0-0-0.00
Cody Heffernan, 0-0-0.00
Kelsey Pavlou, 0-0-0.00
Brumby Brandenburg, 0-0-0.00
Ben Moran, 0-0-0.00
Caiden Sandilands, 0-0-0.00
Lachlan Slade, 0-0-0.00
Taran Chirgwin, 0-0-0.00
Beau Willis, 0-0-0.00
Brody Woodard, 0-0-0.00
Jack Keats, 0-0-0.00
Darius webb, 0-0-0.00